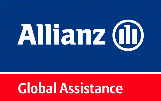 Veuillez faire défiler la page pour voir la version française.
BMO Travel Insurance coverage is exclusively available to BMO Financial Group customers. This coverage is provided by Allianz Global Risks US Insurance Company (Canadian Branch)and administered by Allianz Global Assistance.
Note: If you currently have travel insurance coverage purchased through BMO Insurance, the coverage is valid and will be honoured per the terms of the policy. If you require information about your existing policy or for assistance with a claim please call 1-877-807-7806.
For information on how to enrol, please click here (https://sales.allianz-assistance.ca/en-us/bmo#) or call 1-800-661-9060.
L'assurance voyage de BMO est offerte exclusivement aux clients de BMO Groupe financier. Cette couverture est fournie par la Compagnie d'assurance Allianz Risques Mondiaux É.-U. (succursale canadienne) et est administrée par Allianz Global Assistance.
Remarque : Si vous détenez actuellement une couverture d'assurance voyage souscrite par l'entremise de BMO Assurance, la couverture est valide et sera honorée selon les modalités de la police. Si vous avez besoin de renseignements sur votre police actuelle ou souhaitez obtenir de l'aide au sujet d'une réclamation, veuillez appeler au 1 877 807-7806.
Pour obtenir des informations sur les démarches à suivre pour s'inscrire, veuillez cliquer ici https://sales.allianz-assistance.ca/fr-ca/bmo#) ou appeler au 1 800 661-9060.